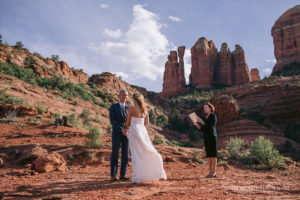 SEDONA WEDDING MINISTRY 
928-282-7594
Karen Lynn believes every ceremony should be uniquely yours and felt deeply. As a wedding officiant in Sedona, she's worked with 100's of couples and helped them have a beautiful start to their new lives together. Through phone calls and emails, she takes time to know each couple and assist in helping them customize their wedding ceremony.
HEART OF SEDONA WEDDINGS
Rev. Andrew L. Murphy, M. Div.
888.808.8919
As a formerly ordained Jesuit Catholic priest and now as a non-denominational minister with over 14 years experience officiating weddings in Sedona, I'm delighted to create for you a heartfelt ceremony that…Mirrors the romance and depth of your love,
Opens your senses to the incredible natural beauty around you,
Awakens your spiritual hearts through the words and vows shared!
WEDDINGS IN SEDONA
Susan Perry
info@weddingsinsedona.com
928-204-2363
Planning weddings and other special life events has touched a soft spot in my heart. I couldn't have foreseen that this would become such an integral part of my path in life – but what a beautiful expression of joy and beauty it is! While the 'business' of planning Sedona weddings may seem like any other job, it is so rewarding to help bring about these magical moments and memories for our couples.
REVEREND SHANANDOAH STERLING
Sterling Weddings Of Sedona
928.282.3335
Shanandoah Sterling started facilitating ceremonies in 1985 with an emphasis on wedding ceremonies over a decade ago. Her professional attention to detail will make your wedding ceremony unique and remembered for years to come! Whether it is an intimate elopement or an elaborate wedding, Shanandoah puts heart and soul into your special ceremony.