VERVE EVENTS & TENTS
928-649-9501
Verve Events & Tents is the rental company of choice for Northern Arizona event planners, caterers, and venues. We specialize in making events beautiful, stress free, and unforgettable. Verve delivers to all of Northern Arizona.


EVENT RENTS
602-516-1000
Event Rents is Arizona's premier party rental provider. Our exceptional client service, quality products and attention to detail are the components that have made us the superior choice in the event rental industry. We are committed to providing our clients a first-rate level of expertise, service and responsiveness. We are a steady resource so that our clients can focus their energy on the special event at hand. Simply, we do our job, so that your special event is just that — special.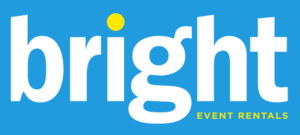 BRIGHT PARTY RENTALS
602-297-7198
At Bright Party Rentals, we understand each bride is unique, and that her wedding day is a reflection of her personality, style, and verve. So whether you're an old-fashioned romantic, a whimsical eclectic, or a modern minimalist, we have you covered from tent to tabletop with the finest chargers, china, stemware, flatware, accessories, luxurious linens and furniture, so your wedding day is truly a spectacular reflection of you.