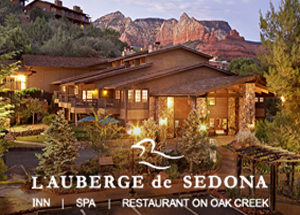 L'AUBERGE DE SEDONA
928.204.4354
Nestled discreetly on the terra cotta hued banks of Oak Creek in the heart of Sedona's legendary Red Rock country lies a legendary oasis of tranquility and romance – L'Auberge de Sedona. For over 25 years, L'Auberge de Sedona has delighted guests with a seamless blend of indoor-outdoor luxury living and all the creature comforts and charm of a French country lodge. Now, following a $25 million refurbishment and expansion, L'Auberge de Sedona offers guests a whole new way to experience Sedona: with a choice of either stunning Red Rock View cottages or serene Garden and Creekside Cottages.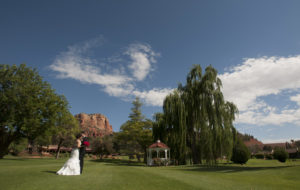 POCO DIABLO RESORT
928-282-7333
Surrounded by lush trees and shimmering ponds, our hotel grounds span eight manicured acres. Exchange vows at our romantic garden gazebo with the red rocks as your backdrop. Celebrate in our elegant ballroom with a reception for up to 150 of your closest family and friends.
Poco Diablo Resort provides such an exceptional wedding experience that it has received the Wedding Wire's prestigious Couples Choice Award for many years running.
TLAQUEPAQUE
928.282.4838
For your wedding…enjoy the charm of old Mexico in the heart of Sedona!
Years from now when you are telling wonderful wedding day stories what will come to mind most vividly is the setting, ceremony and unique reception. If you have dreamed of a wedding in a spectacular place, and if you are looking for an absolutely stunning, romantic, I-will-always-remember-this-magical place-memory, then Tlaquepaque is the place for you.
ORCHARD CANYON ON OAK CREEK
928-239-3257
Orchard Canyon on Oak Creek provides a spectacular, magical venue for weddings, generally held outside on our lawn and garden areas. A buffet reception or a sit down dinner can be arranged in the dining room or on the front lawn, accommodating up to 125 guests. Because of the intimate, tranquil nature of our surroundings, intimate Sedona weddings are especially popular here.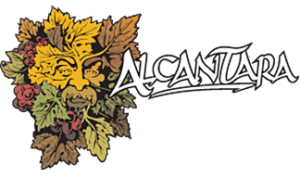 ALCANTARA
928-649-8463
Home to some of the finest Arizona wines and the most amazing views, you will find diversity here for your special day unmatched by any other. Our family would like to help you celebrate the beginning of your love together. Just as the Verde River and Oak Creek meet at Alcantara, signifying two life sources becoming one, we believe we have the perfect setting for two people to join in a loving union. We have the ability to accommodate all your needs and make your day an unforgettable day of fun, family and celebration.
SEDONA ROUGE
928.340.5307
The picturesque city of Sedona, Arizona, often called "Red Rock Country," is home to the renowned Sedona Rouge Hotel & Spa. The area surrounding the hotel is abundant with all conveniences of an urban setting, while also located only one mile from the Thunder Mountain trailhead, the entrance to Red Rock Country and hundreds of acres of Coconino National Forest, renowned as a four season's playground.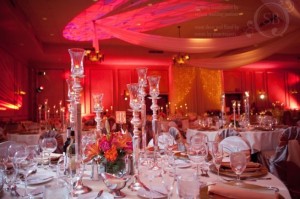 HILTON
928.284.6915
Whether your dream wedding is small and intimate or a grand fete, the Hilton can make arrangements for your catering, accommodations, including head-to-toe pampering at the spa. Spa direct: 928-284-6900.
* Lighting, draping and floral by Events By Show Stoppers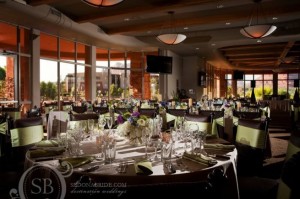 SEDONA GOLF RESORT
928.284.9355 or 928-284-9409
One of nature's most beautiful achievements adds splendor to your special day at the majestic Sedona Golf Resort. Here you will find everything you need to plan your perfect Sedona wedding celebration. Our elegant dining room with spectacular vistas seats 150 people and accommodates dancing and entertainment. Enjoy our wrap-around terrace and choose from a wide selection of reception packages and amazing menus.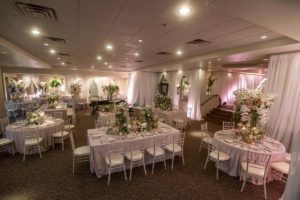 AGAVE OF SEDONA
928-554-4995
The Montage Ballroom and terrace is the perfect location for your special day. The ballroom has floor to ceiling windows which look out over majestic red rock vistas. Special lighting has been installed providing a spotlight effect on every tabletop enhancing the table decor. A 70 inch high definition television is available to show family photos or candid photos of the bride and groom. Large ornate mirrors and wall sconces adorn the walls adding an inviting soft glow to the room. It's your day and you want it to be perfect. The Agave of Sedona was designed to provide a private and exclusive one of a kind venue that includes a large comfortable room, floor to ceiling windows, custom full-length mirrors, custom table lighting, large adjoining terrace, and most of all magnificent red rock views.
* Planning, lighting, draping and floral by Events By Show Stoppers
SKY RANCH LODGE
888.708.6400
Sky Ranch Lodge offers the best views of red rock country from high atop Aiport Mesa in the center of Sedona. Our wedding site has panoramic views of the most popular geological formations in the area: Coffee Pot Rock, Brin's Mesa, Cockscomb, Snoopy Rock, Grayback, Wilson Mountain, and much, much more. No other wedding site in Sedona has views that can remotely compare. Up here, your special day will be framed in the most stunning natural scenery the world has to offer.
LOS ABRIGADOS
928-282-1777
Los Abrigados Resort and Spa teamed up with Wild Thyme Group to cater all events on premises. Chef Shad is a renowned chef, working all over the US and in China. Chef Shad was chosen as one of the Executive Chef's for the 2008 Beijing Olympics.
Our Creekside venue here at Los Abrigados Resort and Spa is situated in the majestic region of Sedona and nestled beneath the shade of the sycamores on the banks of beautiful Oak Creek. Surrounded by red rock and post card views, you can celebrate and dine on Chef Shads's delectable creations."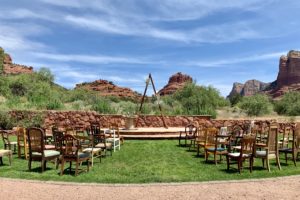 RED AGAVE ADVENTURE RESORT
928-284-9327

The Red Agave Adventure Resort offers an intimate setting of two story Chalets and Studios with incredible views of Bell Rock and Courthouse Butte, two of Sedona's iconic red rock formations. With hiking and biking trails accessible from our artfully landscaped courtyard and leading into the Coconino National Forest, days of adventure and nights of peaceful relaxation around the evening camp fire await.